Update of TLC/HPTLC instrument firmware¶
For instruments with RS232 connection¶
To control CAMAG instrument by visionCATS, you need the corresponding firmware version. You can find the relevant firmware version and update program on the visionCATS installation disc under "Instrument Firmware"
To update the firmware of a CAMAG instrument:
Shut down visionCATS

Start the file Fwupdate.exe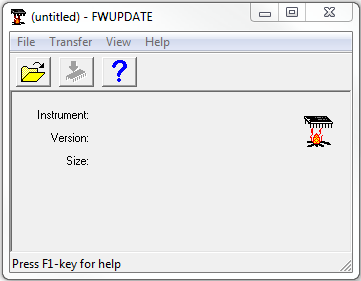 With File/open choose the respective instrument type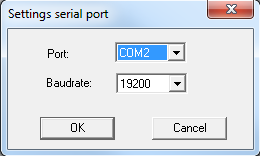 With Transfer/Interface choose the respective instrument and comport

With Transfer/Start or start the firmware update
Warning
Do not switch of the computer or the instrument while the firmware is updated. Interruption during the process of firmware update can cause serious damage at your CAMAG instruments!
Press the reset button on your instrument keypad and observe the LCD display. During the first few seconds of the initialization the instrument display will show the actual firmware version. Check if the new firmware version is displayed
For the camera of TLC Visualizer¶
Note
The firmware update can only be executed from a 32- bit operational system WinXP or Win7 32-bit
Important
An update will be needed if the camera has a firmware version lower than 1.9.0, as it will not work on the required 64- bit Windows
For the firmware update use another Computer or Notebook with a 32-bit operating system. Do NOT use the Notebook with its build-in battery; connect the Notebook to an AC wall outlet

To perform a successful firmware update, the camera has to be installed properly (check device manager) on the Update- computer

Insert the visionCATS disc in the CD drive and search for the FW update program

Copy the folder "firmware" with its content to your local drive

Start the FwUpdate19.exe program found in the new created directory and check the current Firmware in the camera

The window will show the existing Firmware in the camera – in the example below, version 1.8.0 from 23/03/2005. If the existing Firmware is not version 1.9.0 or higher, proceed with the firmware update

Click Update button to start the update of the camera firmware.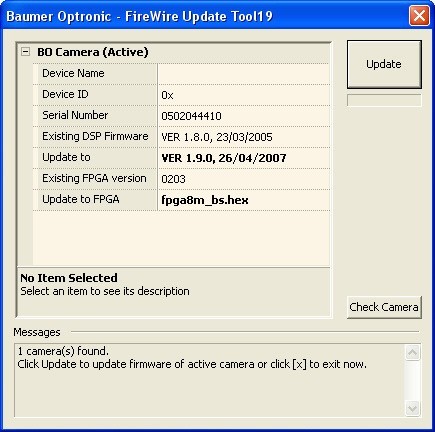 Warning
Be very careful: do NOT unplug the camera or terminate the Update program during the update. This might lead to severe damage to the camera!