Diagnostics tab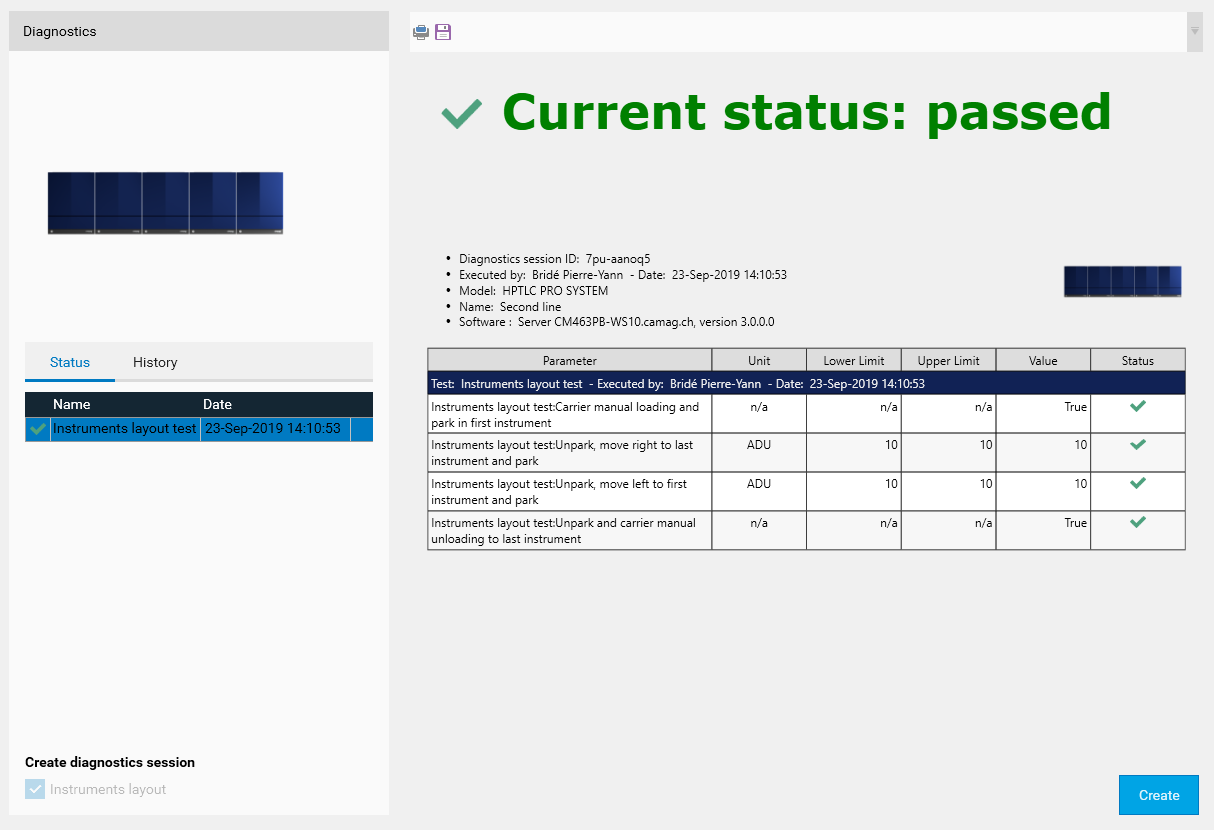 In addition to the diagnostics of each HPTLC PRO Module, a diagnostic of the HPTLC PRO SYSTEM itself is necessary to validate carrier insertion, ejection and the move from each instrument to the next one in both directions. This ensure that:
it is physically possible to load and unload carriers in the HPTLC PRO SYSTEM by using manual loading/unloading positions,

the modules of the HPTLC PRO SYSTEM are correctly positioned and in the right order.
Note
The test also performs feeder moves to feeding and to processing positions as well as conveyor move to feeding position, because these are essential operations for the Conveyor Manager.

The test consists in a run defined specifically for Diagnostics, so that it works like the execution of a normal run. Consequently, it is logged the same way in the History tab.
Important
The diagnostics will not be able to start if the HPTLC PRO SYSTEM is already executing some run(s).
Specific rules apply for the HPTLC PRO SYSTEM diagnostics:
A warning popup appears when starting a run on a HPTLC PRO SYSTEM having no valid diagnostics.

An additional warning appears in the report of the analysis when a run was performed while the HPTLC PRO SYSTEM diagnostics were not valid.

HPTLC PRO SYSTEM diagnostics can only be performed when the diagnostics for all the HPTLC PRO Modules in it are valid.

If the diagnostic of a HPTLC PRO Module of the HPTLC PRO SYSTEM has expired or is being performed again, the HPTLC PRO SYSTEM diagnostics are invalidated

Any modification to the instruments list of the HPTLC PRO SYSTEM (see CAMAG® HPTLC PRO SYSTEM Configuration window) invalidates its diagnostics.
Apart from this, the HPTLC PRO SYSTEM diagnostics windows work like other diagnostics windows, see Instrument diagnostics.
In that case a carrier must be placed in the clean stacker. The diagnostic will take this carrier and then perform movements on the conveyors across the whole system: